Champaign-Urbana Stamp Club
Serving the stamp collecting community in East-Central Illinois...
Champaign-Urbana Philatelic Exhibition (CUPEX)
The Champaign-Urbana Stamp Club hosts CUPEX each autumn at the Urbana Civic Center, located in downtown Urbana. It includes a bourse with stamp dealers from Illinois and surrounding states, and a closed philatelic exhibition, comprising more than 20 exhibit frames prepared by club members.
Each year, in addition to the bourse and exhibition, covers with a show cachet (shown below) are available for purchase, door prizes are awarded, and hourly silent table auctions, seminars and a bulk stamp table are featured. Catered food service is available on site. Parking and admission are FREE!
CUPEX 2018
CUPEX 2018 will be held on the following dates:
Saturday, October 20, 2018. 10 AM–5 PM
Sunday, October 21, 2018. 10 AM–4 PM
Urbana Civic Center
108 East Water Street
Urbana, IL 61801
2018 CUPEX Show Cover
Here is a mock-up of the 2018 CUPEX show cover. You can preorder your covers using this fillable, printable order form.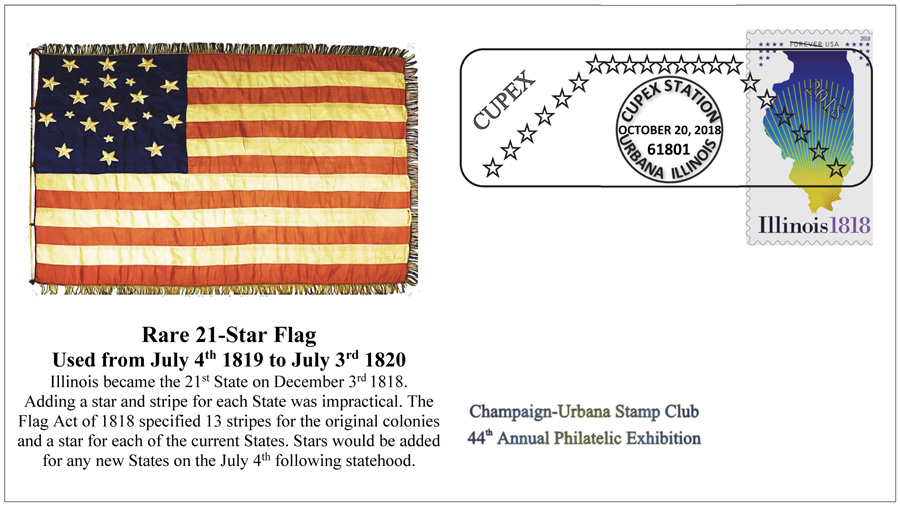 Last updated June 13, 2018
© 2019, Champaign-Urbana Stamp Club, Inc. All rights reserved.

Contact Us